A focussed guide for investors about Faisalabad Smart City
If you are planning to live in the most powerful city of Pakistan then your wait has almost finished! Yes, you have read it right! As the first smart city of Faisalabad is coming with all its grandeur and elegance so you must start thinking about building your dream house in this magnificent project.
The third-largest city of Pakistan and second-largest metropolitan city of Punjab, Faisalabad, is welcoming the mega projects of real estate in near future. The land of Faisalabad has enormous hidden potential that will enlighten the future of this city through the treasure of real estate properties. The wait of investors looking forward to putting their money in the land of Faisalabad has almost compensated.
As there is some mesmerizing upcoming project going to hit the vicinity of Faisalabad that will be going to prove worthy opportunities for investment. One of the premium real estate projects going to launch here is Faisalabad Smart City. It is the first smart city in Faisalabad and retains its position as the pioneer of the sustainable future of Faisalabad.
Few eminent factors have participated in shaping and impacting the urban structure of Faisalabad. These factors include the establishment of an irrigation system, industrialization, natural increment in population, and rural to urban migration. These Facets have contributed to increased demand for housing facilities, shortage of resources, and many other aspects. Given these crucial facets, some dynamic and versatile real estate projects have headed their directions towards Faisalabad. Their objective is to meet the required demand of housing and to furnish the residents of this industrial city with some elite class lifestyle and standards.
Every human being desires to build a place or home to spend time with his family and loved ones. Well, in the advanced world of urbanization, migrating towards big cities and settling over there has become an inclining trend in Pakistan. Every next person is striving to get their lands booked in big cities. Faisalabad is also one of the hot favorite cities in Pakistan concerning lightning-fast developmental work and future perspectives. So what are you waiting for? Faislabad smart city is coming to Manchester of Pakistan with all its grandeur and smart strategies.
Preface
Smart cities are the popular regime of establishing the residential colonies in European and American countries but fortunately, FDHL and Habib Rafique Pvt limited have introduced the concept of a smart city in Pakistan. The tycoons of the construction industry have laid down the foundation of two successful smart cities in Pakistan. The first one is Capital Smart City and the second one is Lahore Smart City.
The third one in the row is anticipated to construct in Faisalabad. It is a megaproject that will cherish the inhabitants of Faisalabad with its charismatic vibes. The smart city of Faisalabad will hold the position of 3rd smart city of Pakistan and will stand out of the competition due to its variant approaches in aligning the lifestyle for its residents.
The foremost smart city of Faisalabad is coming to impart distinct characteristics to the real estate sector of Faisalabad.
Faisalabad Smart city will be a leading project of Faisalabad. It will be an iconic project that will take you on an expedition of gigantic wonders of nature.
Given inclining residential demand in Lyallapur, the owners of the mega residential project of Pakistan, Lahore Smart City and Islamabad Smart City, have decided to inaugurate the smart housing society in Faisalabad. It is a highly notable project in the real estate domain of Faisalabad.
Smart city Faisalabad will prove as a grandeur of metropolitan living, smart lifestyle, state-of-art town planning. The mesmerizing project has incorporated the building blocks of supreme design and civil engineering in its foundations. The project is coming with high-end facilities that will distinctly serve its residents.
faisalabad smart city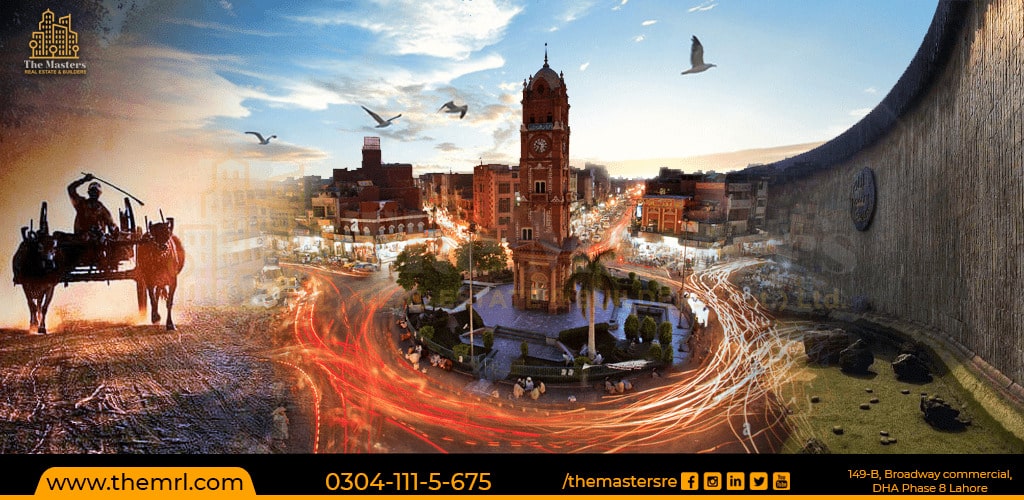 Location of Faisalabad Smart City
It's a ritual of the real estate market, that the investor thinks and analyses twice about the location of any property. It is the most crucial factor that will decide the future return and sustainability of the property. The accessibility of housing society from various major points of the city is a considerable aspect before plunging your investment in that location.
The developers of Faisalabad Smart city have utilized ample time in finalizing the location of this mega project. It is going to locate in one of the poshest areas of the city that will leave the residents with high contentment. Before the launch of this project, many other aspects have been considered before finalizing the location of this lucrative project. Two places are under inspection for Faisalabad Smart city. These are:
Gatwala commercial hub
Canal Expressway
These two prime locations are under rumination for the location FSC. However, these two are ideal areas of Faisalabad. Canal road has already gathered elite class housing societies due to the accessibility of numerous resources and scenic views. If Faisalabad Smart city is going to instigate at this expressway then it will exhibit high rates of the property and also attracts a huge volume of investors.
Canal Expressway is near to khorian wala which is a rapidly developing area and would become one of the principal areas of the city in near future. Canal Expressway is a 25km long road with no signal and hindrance and offers travelers a signal-free road from Samundari to Sahianwala.
As far as the Gatwala commercial Hub is concerned this presumed place is going to be the future location of Lyallpur Smart city than its fabulous concerning investment and other opportunities. Gatwala commercial hub is allocated on Sheikupura- Lahore road. This Smart city will be the largest housing society on this venue. It will prove a lucrative venture both for commercial and residential purposes.
After opting for this area, Faisalabad Smart city will be surrounded by high-end residential societies like Paradise valley 1,2,3, and Wapda city. The vicinity of Gatwala will be going to be the focal point shortly and there will be exponential development in this location.
Faisalabad Smart City – Owners and developers
A lineage of smart cities is going to expand after the addition of Faisalabad Smart city. The owners and developers of this project will remain the same as previous smart city projects. It will be a joint project of Habib Rafique Private limited and Future Holdings developments (FDHL). These two are the pioneer of the real estate sector of Pakistan.
Habib Rafique Private limited is an internationally recognized development and construction group based in Pakistan. They have constructed some of the dynamic and prestigious construction projects over the past few decades. Its achievements are enormous and have resulted in the elevation of masterpieces. Faisalabad Smart city is also going to be one of them as Habib Rafique Pvt. Ltd is the name of class and reliability. They are the major contributor in modifying the ground of smart cities of Pakistan.
HRL had been serving the real estate sector for 15 years and have nourished the ranks of this industry with their purified dedication and supreme constructional work. The quality management practices incorporated in the organization of HRL have enabled them to earn ISO 9000 certification.
Future development holding will be the second contributor to the launch of Faisalabad Smart City. They are the no. 1 development and asset Management Company in Pakistan. They have assisted in developing future-oriented smart cities in Pakistan and will provide luxurious top-notch living standards to prospective residents. FDHL is a collaborative company run by various national and international business entities. The company is devoted to furnishing modern living experiences in its Industria and residential zones. Faisalabad Smart City constructed by FDHL will prove as a polishing point in the history of Faisalabad.
Faisalabad Smart City Master plan
The master plan of Faisalabad Smart city is an exemplary layout that will cherish the investors after looking at its blueprint. Although, the alignment of the master plan is a later step in the developmental procedure Masters real estate have extracted some solid information regarding the remarkable project. The initial master plan of Faisalabad Smart city comprise of following points:
The cutting strategies going to be implicated for Smart city of Faisalabad will serve the investors with the following sizes of plots:
3 Marla
5 Marla
7 Marla
10 Marla
1 Kanal
The smart city will get demarcated in the following sectors/blocks:
Overseas block
Smart villas
General block
Executive block
These divisions of the housing project will prove as the first categorization of the blocks. This housing society will offer you top-notch facilities like schools, colleges, universities, shopping centers, grocery stores, and health facilities.
Faisalabad Smart City payment plan
It is an advanced world community that will spread over an extensive piece of land. After approval from the Faisalabad development authority, the developers will offer you 3, 5, 7, 10, and 1 Kanal residential plots.
The owners are also planning to offer an affordable installment plan of 6 quarterly or 18 monthly installments plan. The investors will be able to enjoy the possession after paying the negligible amount of 10% of the whole amount. The prices estimated for various sizes of plots have been mentioned elaborated here that will clear your mind regarding the affordability and other aspects of this project.
The rates reckoned for 3 Marla plot will lie between 3,000,000/- to 4,000,000/-. The installment will also be there to ease the investors in paying their amounts.
The prices for the 5 and 7 marla plot will fluctuate between 4,000,000/- to 9,000,000/-. The booking will initiate after the initiation of the project.
The rates for 1 Kanal and 2 Kanal plots will remain in the window of 1 crore to 1.5 crores. These huge plots will be suitable for constructing humongous houses and bungalows.
This estimated rate list of plots will give you a notion that how much amount you have to arrange for getting your plot booked in this mesmerizing housing unit.
Facilities and Amenities
Although it's too early to talk about the facilities and amenities available at Faisalabad Smart city The Masters Real Estate is the only trustworthy platform that will provide you with authentic information. The developers are planning to dispense some of the outstanding features that no town in the city has. This housing society will be equipped with all basic and modern facilities of life.
The wide carpeted roads, smart technology, availability of WiFi throughout the colony, the eco-friendly environment will provide the residents with an international standard living style. The automated waste disposal system, installation of sensors for detection of pollution, and many other innovative facilities will be instilled in this third biggest smart city of Pakistan. Masters real estate has compiled up an estimated list of facilities that will be available in this smart city:
It will be a gated community with high alert security and the installation of CCTV cameras will be there.
Electrically wired boundary walls.
Parks, lakes, and recreational places.
Community offices
24/7 availability of potable water, electricity, and gas will entertain the residents.
Grand Jamia mosque
Completely functional health centers with emergent facilities
Sports complex
Commercial centers including the departmental stores, shopping malls and all necessities of life will be there.
The developers of iconic projects of smart cities of Pakistan have already provided these facilities in their other previously built projects. Numerous other facilities will be imparted in this mega project of the smart city of Faisalabad. However, we have enlisted some of the ground necessities of life which are necessary to spend life in this era of urbanization.
Conclusion
The review of the upcoming project in the extensive land of Faisalabad has allowed us to recommend it as one of the most affordable projects in this territory. Faisalabad is the ideal city to live and flourish in as this city has countless opportunities and a high potential for development in the coming years. Given these reasons, the owners of smart city have decided to launch their worthy project in this city. Faisalabad smart city will be going to play a pivotal role in enlightening the real estate sector of Pakistan.
FAQS
When Faisalabad Smart city will go to launch?
The owners of this majestic residential colony have decided to launch it in 2022.
Does Faisalabad smart city have the same owners as Lahore Smart city?
Yes! The owners and developers of Faisalabad smart city and Lahore Smart city are similar.