Park View City Lahore Introduction:
Lahore, which holds the heart of Punjab, is an ancient courtesan of Mughal emperors and the handmaiden of obscurely reminisced Hindu kings. This ancient city is bejeweled and outfitted as the embodiment of splendor, and in the cynosure of the heart of Punjab, there lies the Paris of East, Park View City Lahore.
The magnificent city of Lahore beholds the breaths with infinite livelihood opportunities and mesmerizing historical perspectives. If you are looking for a serene environment to live then Park View City Lahore is the supreme decision with modest rates in the market.
We warm-heartedly welcome you at Park View City Lahore housing scheme; this bellwether brand is aesthetically manufactured with a deep foundation basis inculcated with a commitment to integrity, quality, and reliability. Furthermore, PVC Lahore has satisfactorily achieved the NOC from LDA.
Park View City Lahore Owners and Developers:
Park View City Lahore is the iconic project of vision Groups, which holds the pedestal position in the industry of real estate. Vision group is one of the largest building group of companies' urban development and real estate conglomerates of Pakistan.
It has founded by Mr. ALEEM KHAN, who was elected as MPA in the general elections of 2018. He currently holds a dominant portfolio in the current government of Pakistan, Tahreek-e-Insaaf.
Park view city Lahore is one of the most modern and advanced colonies in Lahore, and its foundation had laid in back 2007. This housing society enjoys the best infrastructural development, meeting the demands of clients' choices.
Due to its beautiful and reliable building and construction features, the defense housing authority (DHA) has merged its park view villas with one of its sectors. Due to more land to the park, view villas have rebranded as park view city Lahore.
We are here to furnish you with an impeccable and iconic lifestyle along with a lavish greenery park in each block, 24/7 security services, alleyways in a clean environment, and an extensive road system.
Park view City Lahore Location and Map
Some influencing factors keep your property highlighted. One of the most crucial ones is the desirable residential colony or property location to mesmerize the buyers. The main thing regarding making the land worth buying is its commercial location.
Our prime location at the distance of a few kilometers from the Motorway lies our commercial and residential colony, which promises to facilitate you with its dignitary proliferating real estate developing land in Lahore and its alluring outskirts.
PVC Lahore resides 3km from Thokar Niaz Baig at the bustling multan Road with its colossal projects to fulfill your dream house. There is three most prominent location from where you can approach the residential locations depending upon the route of our worthy clients.
These routes include Batti Chowk, Azadi chowk, and The Mall Road. Moreover, the site of pvc lahore has excellent access towards major urban hubs of Lahore.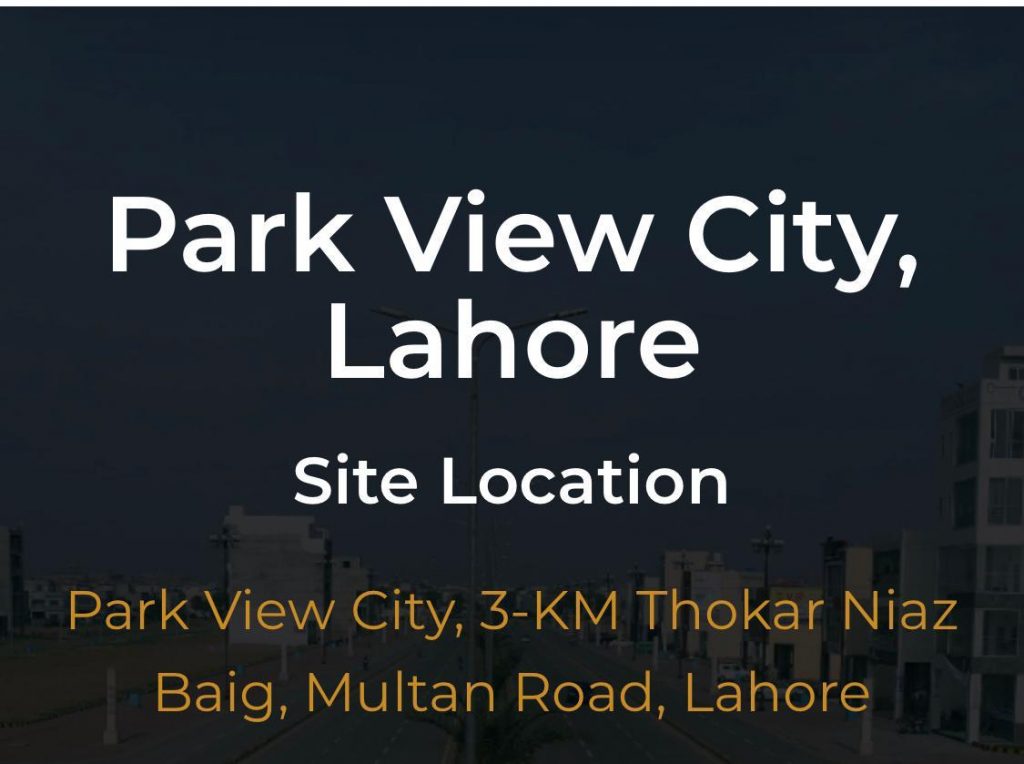 Park View City-Dedicated Interchange Map
The Park View City Lahore unlocks the easiest route for the people intended to reach Lahore and travel to big cities of Pakistan. The location perspectives are even more anticipating due to the Thokar-Niaz Baig interchange of the Lahore- Multan road. Although direct access to Park view city Lahore is from Multan, it also links to GT-road, which enroots many cities of Pakistan.
The convenience of accessing the Motorway through this dedicated interchange is also an outstanding feature of PVC- Lahore. Furthermore, this housing society is encircled by many posh housing societies, including Eden garden, DHA, and EME lie in the proximal territory of PVC- LHR. The residents can also reach out to the main areas of Lahore, including the Samanabad, Township, and central Lahore through GT road.
For approaching the Allama Iqbal international airport, Lahore ring road, and other hustling sectors of the city, including the Wapda Town, Bahria Town, Faisal Town, the inhabitants can leverage through thokar Niaz Baig interchange.
Park View City Lahore Blocks
Park View City Lahore has plunged into the real estate market of Lahore to offer the concerning buyer with following three categories of blocks. We have fabricated these blocks intending to meet the aspiration of the buyer regarding their aimed residency. The division of these blocks depends on the distribution of Marla's along with amenities. PVC Lahore premises the allocation of plots from 3.5 Marla to 1 Kanal.
The blocks of PVC- Lahore have also been allocated with other names known as diamond block and Orchard Block. The characters have linked with the facilities distributed among the plots. The builders of these extending projects have striven to win the trust of their customers with reliable and versatile house developments. They know that these houses are restricted to fulfill their business requirements and provide shelter to the beloved ones of their clients.
The vast area of PVC- Lahore expands on the location of 4000 kanals. According to the officials of PVC- Lahore, another land will also be adding to this residential project after getting approval from LDA. However, LDA has issued registration and NOC to the current area of Park view City Lahore.  According to real estate specialists and veteran real estate investors, PVC- LAHORE is one option to invest and purchase land from this massive project.
The primary reason for opting for the PVC as the premium option for investors is that this society is almost 70% to 80% developed, and it is not limited to paperwork only. Park View City Lahore already inhibits an evident proportion of manufactured buildings and residents, making it the best option to invest in other real estate projects.
a) Park View city Lahore Overseas Block & Map
The sheer number of 3.5 Marla plots are left behind in the overseas block of PVC Lahore. So, hurry up to catch up with the most affordable residential plot for your dream house with a limited down payment of 20. The availability of these 3.5 Marla plots has become accessible at unbelievable low rates compared to other residential colonies on Multan road. The total price of the 3.5 Marla plot is approximately up to 3 million.
At the same time, our landowner can make the remaining payment in installments of up to 80,000 per month. The tenure of these installments will be continuing for 30 months. At the same time, the down payment of 20% reveals that you have to pay 6,00,000 for quickly booking your plots and officially getting your scheme registered with your name. The overseas block or orchard block is among the finest blocks of PVC- LAHORE.
All exceptional facilities and amenities are accessible in this block. The clients can start building their desired project after obtaining possession from the PVC- Lahore officials.
b) Park View City Lahore Executive Block
The executive block of PVC Lahore has inculcated the premium location for the designation of 5 to 10 Marla plots. It owns one of the most coveted blocks of the residential scheme. The main reason behind this is that it has furnished with all the amenities.  The janitors of PVC claim that it is one of the developed and futuristic sectors for the residents. The homeowners and investors only have to pay the negligible down amount of up to 25%.
The 5 Marla plot of PVC-LHR holds a worth of 4.5 million. The investors and homeowners must pay the amount of 11,25000 to get the ownership of the land. The registration process will be only one step ahead after paying the down payment. The customers are free to spend the rest of the amount either in installments or in one-time charges.
On the other hand, the 10 Marla plot costs only 7.5 million Pakistani rupees. The rate of the down payment for the 10 Marla plot has also been fixed at 25%. The remaining dues are payable either in quarterly or monthly installments according to the ease of investors.
c) Park View City Lahore Overseas Prime Block
Here comes the exemplary block of PVC Lahore dealing in 1 kanals plot. The total payable cost of 1 Kanal plot in PVC- Lahore is only 15 million. The booking of your property will be just one step ahead after paying the down payment of 1,525,000. After 30 days of paying the booking amount, your plot will be registering in the LDA approval system.
Park View City Lahore Installments Plan
PVC-Lahore follows two regimes for the installment plan of the residual plan. One of them is a two-year plan with eight quarterly installments in which an installment of 1,500,000 has to be made. The other method is more convenient to avail and comprises of installment amount of 500,000 with 24 months tenure.
One of the distinct features to evaluate after looking at the prices of various plots is that prices are reasonably low in PVC- Lahore. If we compare the rates with the adjoining neighbors of housing societies, PVC-Lahore offers its client relatively low prices. The analysis of costs of Bahria town and EME sectors concluded that their prices are 30% higher than Park view city Lahore.
Besides the price investigation, PVC- Lahore is the only housing scheme among the other big shots of the town to offer their clients an installment system. Hence it is simply a golden chance for all those investors and homemakers looking to make their desired projects on the majestic and commercial area of Lahore. If you are willing to invest your money in a suitable housing scheme, then PVC-Lahore is the best investment in park view city lahore.
Park View City Lahore Updated Payment Plan
One of the most crucial aspects before investing in real estate is the finances, and we are here to provide
exceptional payment plans for our luminary concerning customers. We have striven to engage the
installment plans and full installment with negligible down payments commodities for our worthy clients.
Park View City Lahore Master's plan
PVC Lahore Master Plan are the one of the best decision to opt for booking you plots in PVC. Masters real estate is the authentic sales partner of PVC- Lahore. A cherry on the top is that the investors will avail unbelievable and exclusive discounts while booking from our convenient route.
Following tabulated illustration of installment plan will solve all your queries related to owning a plot in
PVC-LAHORE:
Plot Category
Retail Price
Booking payment

10%

Confirmation amount (10% after 30 days)
Balance amount
8- months installment
24- months installment
3.5 Marla
3,000,000
3,00,000
3,00,000
24,00,000
240,000
100,000
5 Marla
45,00,000
450,000
450,000
3,600,000
450,000
150,000
10 Marla
8,000,000
800,000
800,000
6,400,000
800,000
266,667
1 kanals
15,000,000
1,500,000
1,500,000
12,000,000
1,500,000
500,000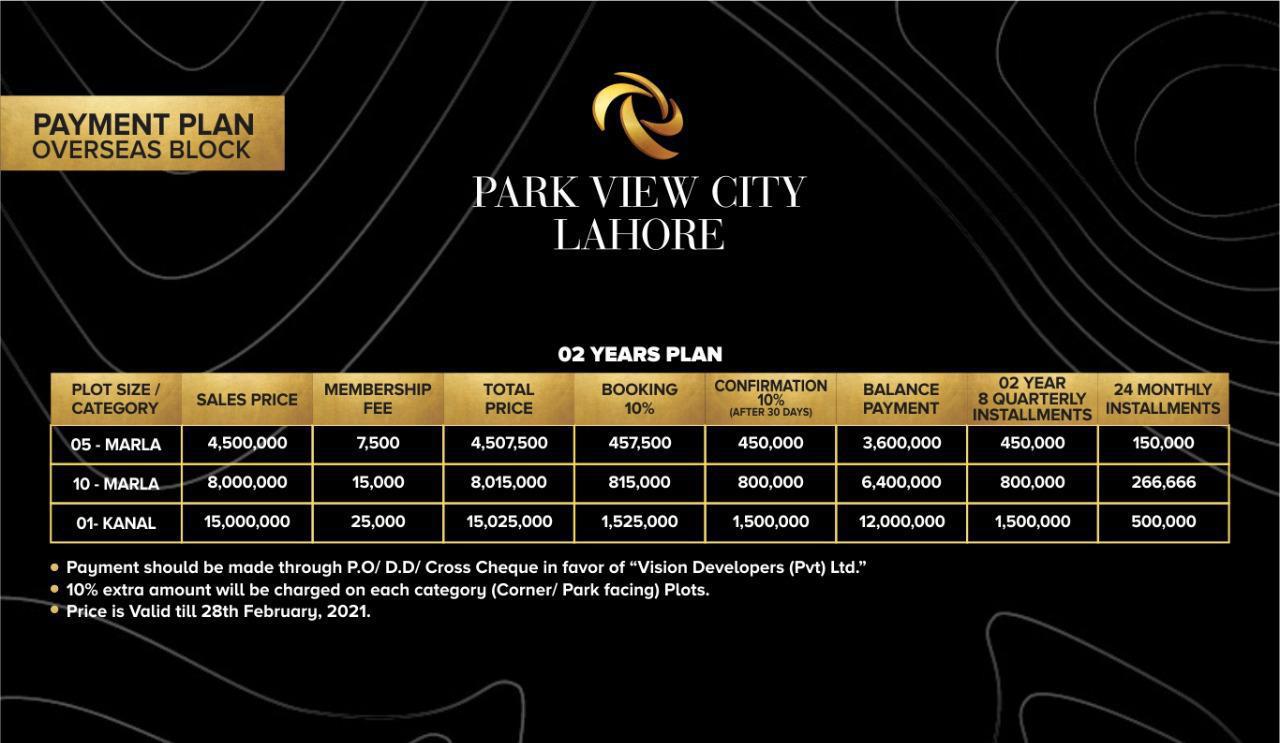 Park View City Lahore Booking Procedure
After consulting with the competent representative of Masters planners, your all ambiguities related to booking and Park View City Lahore Payment Plan will vanish. We intend to provide our customers with the ease to enjoy a well-developed and luxurious house in a prestigious residential colony like Lahore Park View City. The most feasible thing regarding your plot purchasing in PVC-Lahore is that you do not have to pay a lump sum amount at once. We will offer you the most appropriate installment plan.
Booking Steps:
1. Fill out the Booking Application
2. Attach your CNIC Copies
3. Perform the Down Payment 
4. Cash payment are also accepted
Available Facilities and Amenities
There are some notable and sumptuous amenities at PVC- Lahore, some of them have mentioned below:
1.High-end commercial area
2.Education and health domains
3.Clean water supply
4.continuous electricity supply with backup generators
5.and 24/7 availability of gas 
7.An extensive network of carpeted roads 
8.pollution-free environment will leave you in a peaceful surrounding
9 Botanical Garden
10 Holes Golf Course
11. water filtration plant
12. gated community monitored 24 hours a day
13.  spectacular water theme park for entertainment.
Residential Park View City Lahore is among the latest in a series of projects initiated by Vision Group.
For emphasizing accessibility and luxury, accommodation is located in the ideal location in Lahore on
Multan Road about the DHA EME sector.
So, The Master Real Estate is highly recommends the Park View City Lahore for investment. We are Also Authorized Users of Lahore smart city and Capital smart city.