Introduction
After successfully completing the New Metro City Kharian project. BSM Developer will start a new project in Gujar Khan with the name New Metro City Gujar Khan. This housing scheme offers affordable housing with world-class facilities, cutting-edge technology, and reliable developers.
The project is intended to provide luxurious yet affordable housing options. New Metro City Gujar Khan is located near GT Road and is easily accessible from Islamabad in a matter of minutes. There is no doubt that the New Metro City in Gujar Khan will be a great place to live because it will have both luxury and easy access.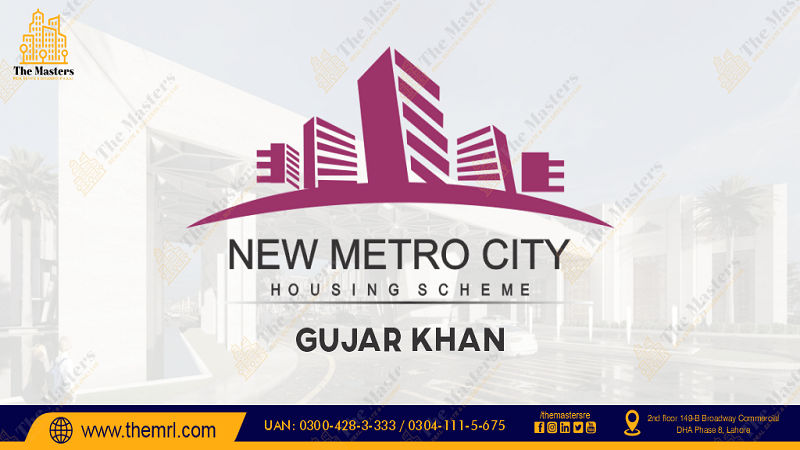 Developers and Owners
Bilal Bashir Malik is the owner and developer of New Metro City Gujar Khan. He is the grandson of Malik Riaz (owner of Bahria Town). The Golf City Gwadar is the first project that the BSM Developers have successfully completed.
They are now working on the Metro City projects. The goal of the new metro city Gujjar Khan is to change the entire Gujar Khan real estate market. But while staying within a customer-friendly budget, this project would meet global living standards.
Furthermore, it has a cutting-edge safety and security system to provide comfort to its residents. A team of highly skilled experts is working around the clock to finish the project on time.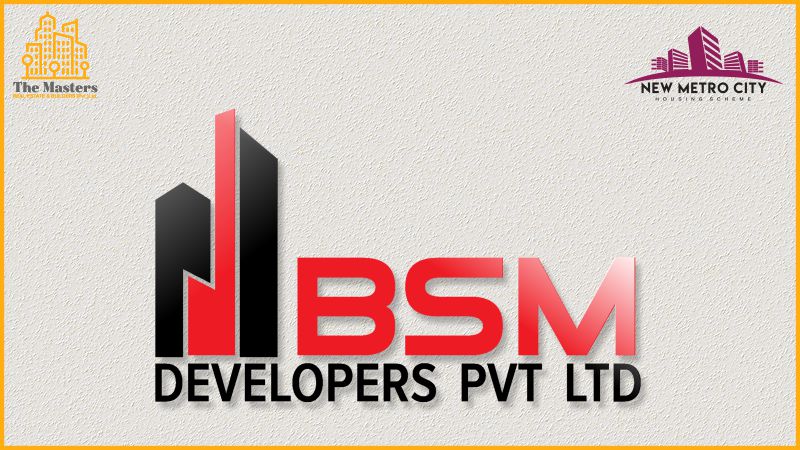 NOC
The project is the sole initiative of BSM Developers, a reputable and experienced construction company. They have already completed the New Metro City Kharian and the Gwadar Golf City. Therefore, the Tehsil Municipal Administration (TMA) will soon approve the No Objection Certificate (NOC) for New Metro City Gujar Khan. 
Location and Accessibility:
When it comes to real estate, there is no doubt that a propertys location is very important. As a result, the best location is the New Metro City Gujar Khan, which is just outside of Islamabad.
Because of its proximity to GT Road, the New Metro City Gujar Khan location is easily accessible from anywhere in the country.
In other words, if youre looking for a peaceful, secure neighborhood, Gujar Khan is the place to be. Because of its great location and growing economy, it will give you the best return on your investment.
The New Metro City Gujar Khan map shows how easy it is to reach the city
• 06 Minutes Drive From Gujar Khan City
• 14 Minutes Drive From DHA Islamabad
• 11 Minutes Drive From Bahria Town
• 13 Minutes Drive From Sohawa Town
• 26 Minutes Drive From Zero Point Islamabad
• 23 Minutes Drive From Jhelum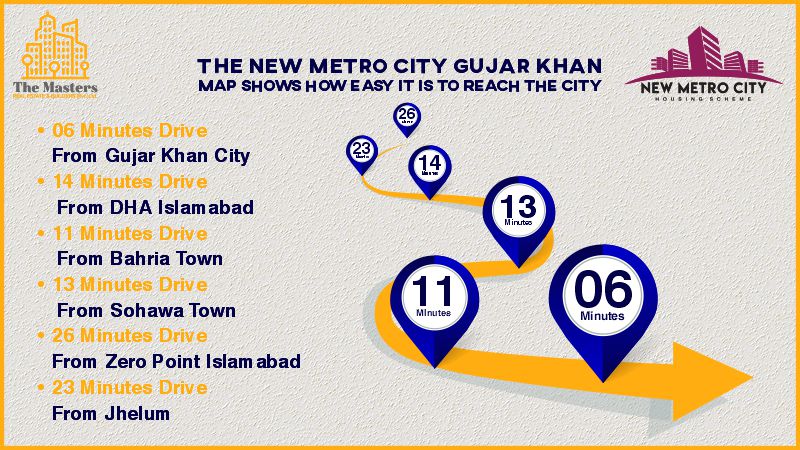 Nearby Landmarks to New Metro City – Gujar Khan
• The Mall of Gujar Khan
• Aspire College 
• Punjab College of Commerce
• Government College of Women
• Sarwar Shaheed College
• Tehsil Head Quarters Hospital
• City Palace Banquet Hall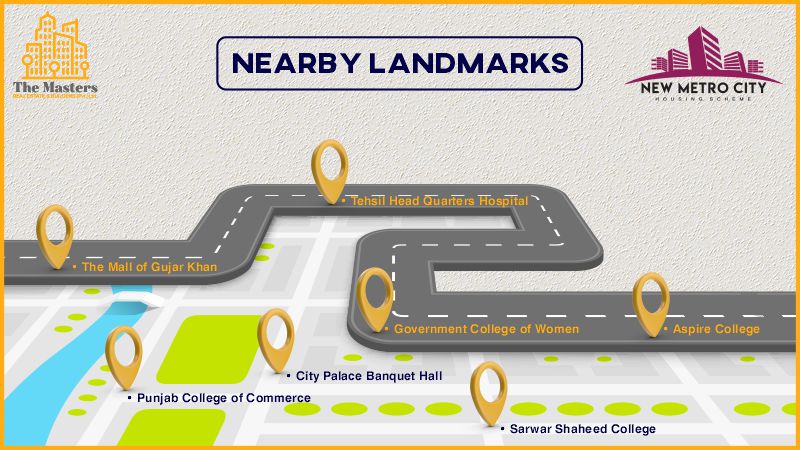 The Master Plan of New Metro City Gujar Khan:
New Metro City Gujar Khan will soon become Gujar Khans new identity. A team of highly qualified architects and civil engineers is developing the master plan for this housing scheme.
However, the most important thing is to distinguish it from other infrastructure development projects in light of todays lifestyle. The New Metro City Gujar Khan master plan is built around residential and commercial plots that can be bought by investors.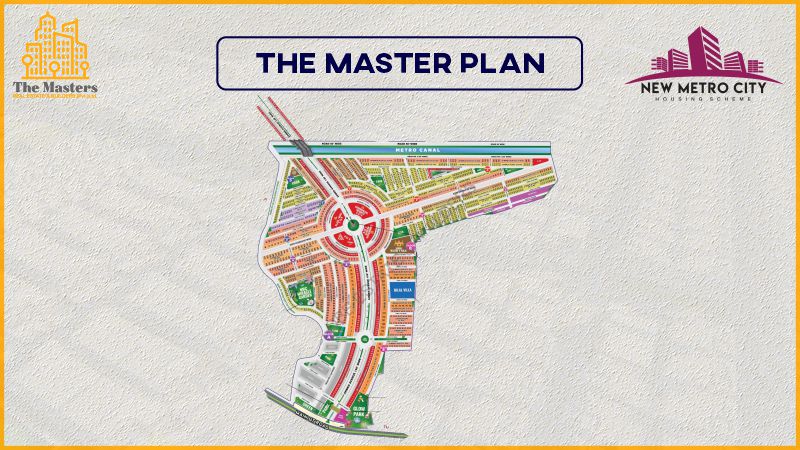 Also Read: Lahore Smart City Master Plan
Residential investors can take advantage of the different plot sizes
• 3 Marla
• 5 Marla
• 7 Marla
• 10 Marla
• 1 Kanal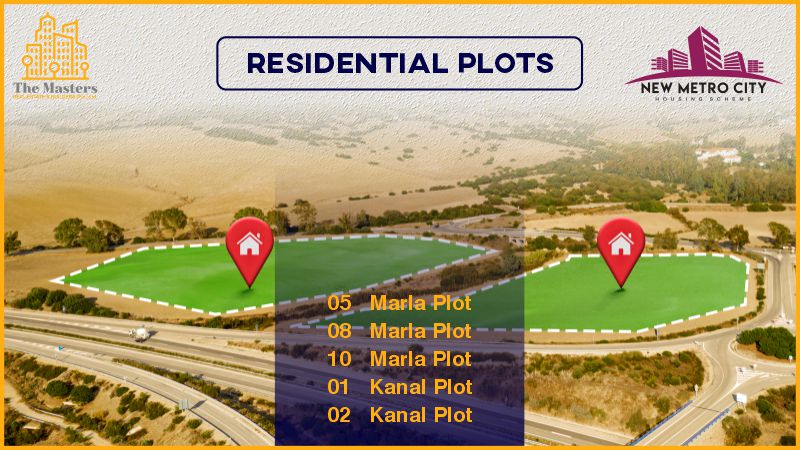 Commercial investors, on the other hand, will be able to take advantage of the space
• 3 Marla
• 4 Marla
• 8 Marla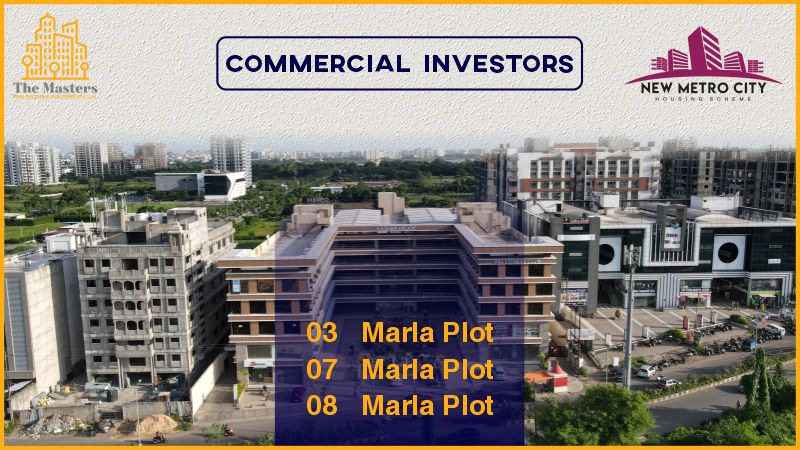 New Metro City Gujar Khan Payment Plan
New Metro City Gujar Khan is a new housing development project in Gujar Khan. The project offers a variety of plot sizes at reasonable prices, as well as installment payment plans. Although the development is still in its early stages, plots are available for reservation.
So, if youre looking for an affordable housing option in Gujar Khan. You can reserve your dream home by choosing a suitable New Metro City Gujar Khan payment plan from the list below: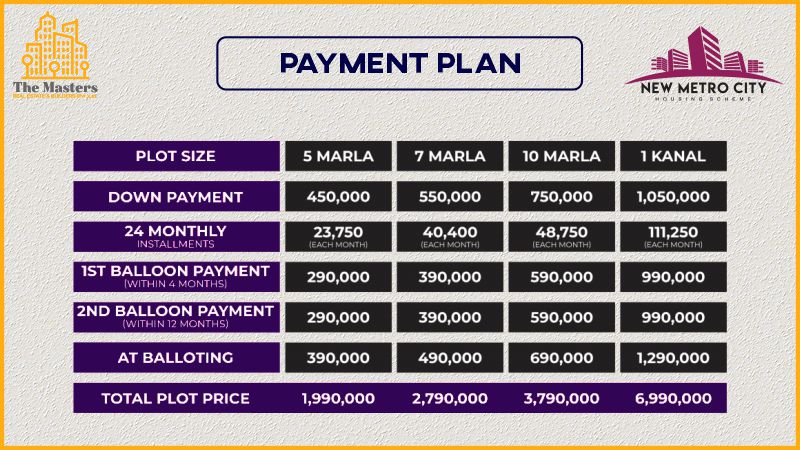 Notable features
New Metro City Gujar Khan is located just outside Islamabad and is easily accessible by road and rail and If you are Invest in Islamabad you can check our another top smart project which is Capital Smart City Islamabad.
Gujar Khans New Metro City has several notable features:
• Eco-Friendly Environment
• Affordable Pricing
• Prime Location
• Lavish Services
• Phenomenal Entrances
• 24/7 Security System
• Secure Gated Community
• Sewerage And Waste Disposal System
• Underground Electrification
• Water, Gas, Electricity
Value Adding Features
Our value-added features make us stand out from other real estate companies.
• Business & Commercial Hub
• Education Complex
• Community Center
• Grand Mosque
• Graveyard
• Health Facilities
• Sports Complex
• Green Belts
• Dining Options
• Contemporary Infrastructure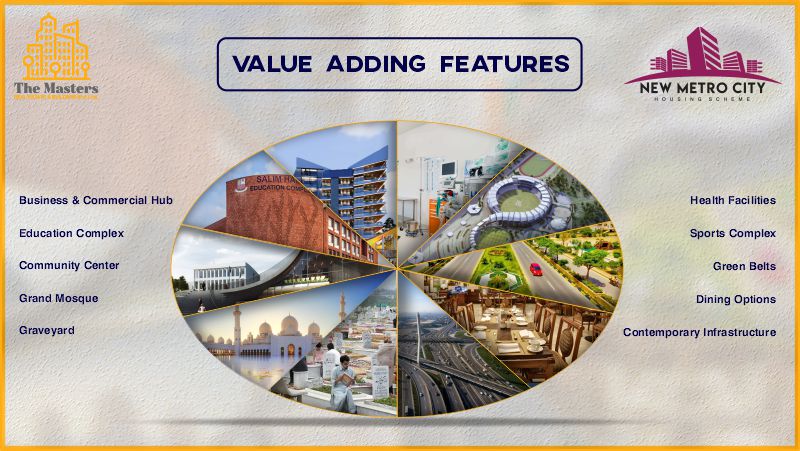 Booking Procedure and Required Documents
Buyers of New Metro City Gujar Khan properties will need the following documents to complete their transaction:
• Two Passport-Sized Photos
• Two Copies Of Your National Identity Card
• Two Copies of NICOP For International Clients
• Two Copies Of Your Next Kins Identification Card
• Copy Of Payment Receipt
• Screenshot Of Online Payment Slip
The Procedure for Reserving Plots
All you have to do is follow the steps outlined below:
• Please ensure that your booking application is completed with the utmost care.
• Include a copy of your CNIC with your application.
• Make a down payment in the form of a check or money order made out to New Metro City Gujar Khan, but make sure to confirm the management process in case there are any last-minute adjustments.
• If you prefer to pay by check or money order, they will gladly accept it with prior approval from management.
• Send in all of the necessary documents, along with the payment, and make sure you get a receipt.
Why Invest in the New Metro City Gujar Khan?
There are many benefits to investing in a new metro city Gujar Khan.
As an investor, you will be able to take advantage of the citys growing economy and infrastructure. Furthermore, the new metro city of Gujar Khan is located in a prime location. It is close to big cities like Islamabad and Rawalpindi, making it easy for a lot of people to get there.
This makes it an ideal location for businesses and industries to establish themselves. So why invest in the new metropolis of Gujar Khan? The answer is simple: it is a city with huge potential. If you are looking for a place to invest, the new metro city of Gujar Khan should be at the top of your list.
Conclusion
New Metro City Gujar Khan is a high-end commercial project being built for those who demand the best. This project has it all, from luxurious facilities and first-rate accommodations to affordability and a great location. 
We at The Masters Real Estate recommend that you invest in New Metro City Gujar Khan. The city offers numerous investment and development opportunities. 
The city has excellent infrastructure and is well-connected to the rest of the country. If youre thinking about investing in real estate, New Metro City Gujar Khan is a good place to begin. To learn more about this exciting opportunity, please contact us today.
FAQ's
Q1: What exactly is NMC Gujar Khan and where is it located?
New Metro City Gujar Khan is a BSM developers project located near GT Road Gujar Khan.
Q2: How do I reserve a plot in New Metro City from elsewhere in Pakistan?
You can book a plot from any part of Pakistan by contacting an authorized real estate partner, such as The Masters Real Estate.
Q3: When will reservations for the NMC open?
The plots will be available for reservation after Eid-ul-Adha in July 2022.
Q4: When will investors be able to take possession of plots?
After six months of purchase, possession will be awarded.
Q5: What is the NMC Khan payment plan for 2022?
Flexible payment and installment options are available in New Metro City to meet the needs of a wide variety of investors.
Q6: Is the project TMA approved?
The legal documents have been delivered to TMA, and the NOC will be issued to the project shortly due to the better reputation of BSMs developers.
Q7: Who are the New Metro City Gujar Khans developers?
BSM developers are the developers of New Metro City, one of Pakistans most renowned and trusted names in the real estate sector.
Q8: What is the current state of development at New Metro City?
The development is in its early stages.
Q9: What amenities will be available at New Metro City?
• World-Class Infrastructure Development
• Beautiful Entrance
• 24/7 Security
• Electricity, Gas, And Water Availability
• Community Centers
• Public Parks
• Educational Institutes
• Hospitals
• Malls
• Dining Out Options
Q10: Why should you invest in NMC Gujar Khan?
Gujar Khan is a city in Pakistan that is growing quickly and getting a lot of investment. Because the city is close to Islamabad, it is a great place for businesses to start up. Investing in the New Metro City is a great way to get in early on a city that is growing quickly. Gujar Khan is a new market with a large and growing population that is sure to give a good return on investment.