The DHA Multan, with its 9000 acres, has won the hearts of many investors in Pakistan and across the country. The Defense Housing Authority, or DHA, needs no introduction. An approved and legal housing authority from one of Pakistans most trusted and renowned developers. It is located on Bosan Road near GT Road in Multan and has all of the latest amenities for Multan residents.  
DHA Multan is attracting a huge number of investors due to its ideal location and accessibility. The people of Pakistan, particularly the people of Multan, have shown a strong interest in investing in DHA Multan due to its legacy and world-class amenities at affordable prices.
It distinguishes itself from the competition by including the Rumanza Golf Course, 360 Zoo, Community Park, Shopping Arcade, and food court. Furthermore, the luxurious amenities, eco-friendly environment, prime location, and affordability make it the first choice of investors looking to purchase property in Multan.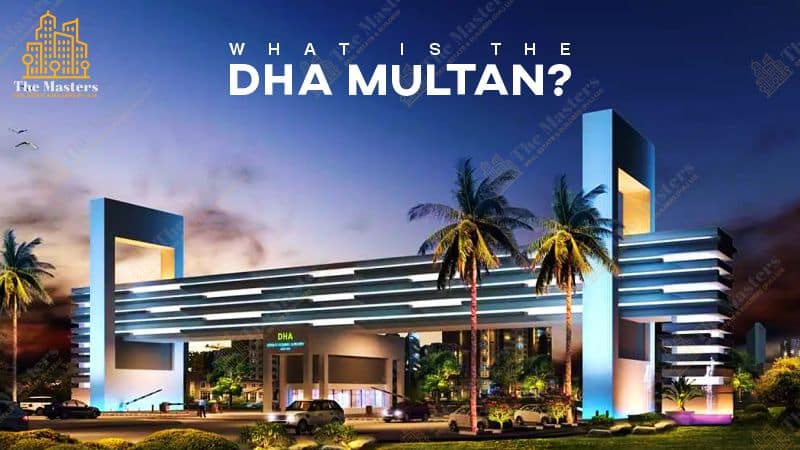 The defense housing authority is well known for securing prime real estate. Therefore, they never forget their tradition of having the best location possible. As a result, the developers chose an ideal DHA Multan address on Bosan Road in Multan, which is close to both Bahauddin Zakariya and the Institute of Southern Punjab Universities. Location is always a top priority for the defense housing authority (DHA) in Pakistan. Therefore, they occupied the most accessible part of the city in Multan, which could be accessed from several parts of the city:

1. Approximately a one-minute drive from Mattital Road 
2. The Multan Bypass is only 13 minutes away.
3. Bahauddin Zakariya University Multan is only a 15-minute drive away.
4. Multan Daewoo Terminal is a 30-minute drive away.
5. Nishtar Medical University is a 30-minute drive away.
6. It takes 35 minutes to drive from Multan International Airport.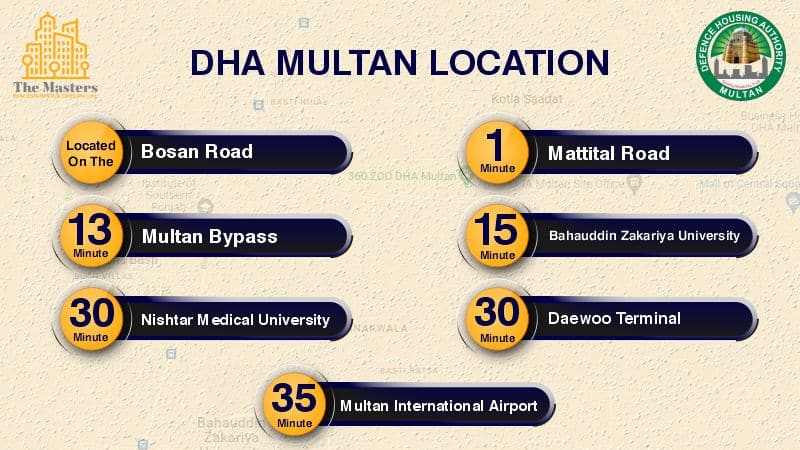 DHS has officially announced the DHA Multan Phase 1 map. The map shows the entire layout plan of phase 1. Here you can explore the DHA Multan Map for all the sectors.
There Are A Few Nearby Landmarks That Are Worth Noting!
Regardless of its primary location, the DHA Multan Location is easily accessible by well-known nearby landmarks such as:
1. Multan International Airport
2. Green Fort Housing Scheme
3. Gulshan E Tauheed
4. Multan Cantt
5. The Tomb Of Shah Rukn-E-Alam
6. Kotla Sadaat
7. Gulistan Homes
8. Lutafabad
9. Buch Villas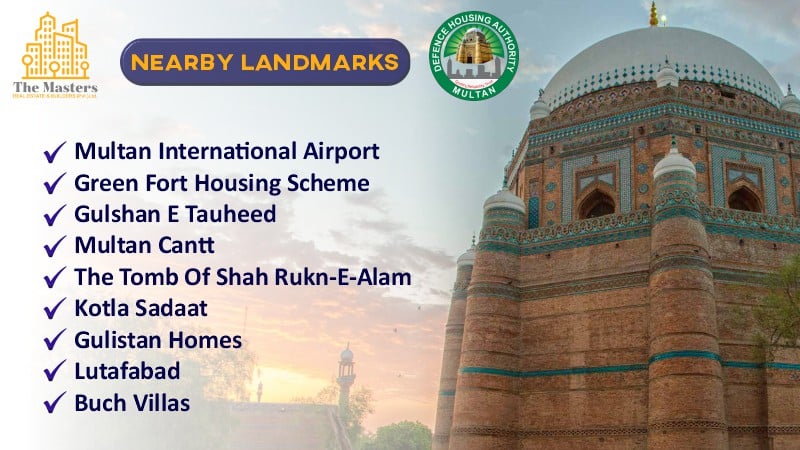 The DHA Multan developers have a great reputation for building legal projects in Pakistan, so the No Objection Certificate (NOC) has been duly approved by the legal authorities of Punjab. Legal and approved projects, on the other hand, have a better chance of being completed within a given timeframe and legislation. All projects initiated by the Defense Housing Authority have received NOC for development in Pakistan. 
DHA Multan Owners and Developers:
The DHA Multan is yet another one-of-a-kind and world-class project by the Defense Housing Authority (DHA). However, the developers are well-known in Pakistan; they understand current market trends and, more specifically, peoples needs. As a result, they always come up with client-oriented projects at reasonable prices. Their industry expertise and previous successful projects make them a viable option in Pakistan.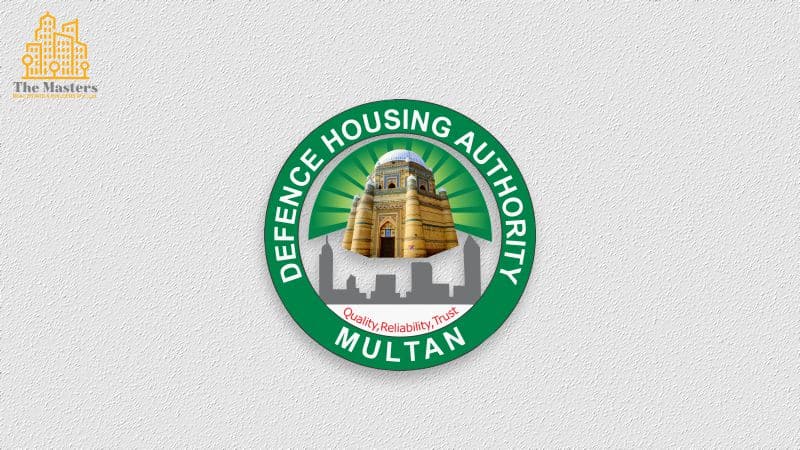 As the name implies, the DHA Multan master plan includes all of the master amenities that can be added to a contemporary lifestyle. The plot allocation and other facilities are expertly crafted to provide a supremely luxurious yet affordable experience. For more details and information, contact Masters Real Estate & Builders today. The DHA Multan master plan includes areas such as: 
Electric Energization of Sector M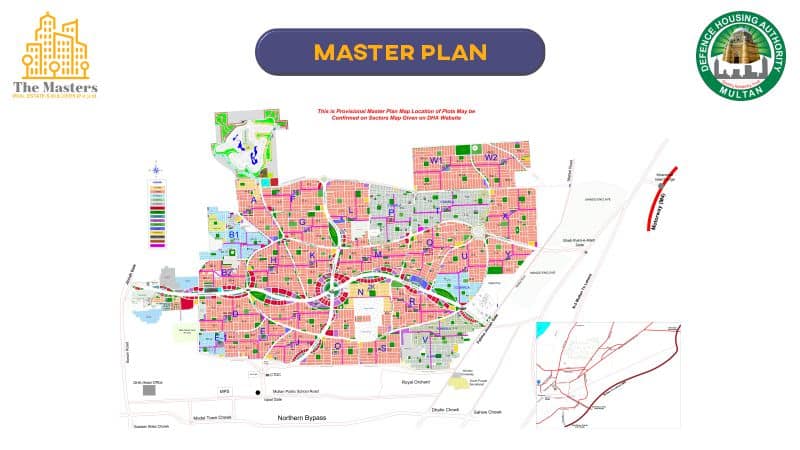 DHA Multan Sectors:
To meet the diverse needs of its residents, the DHA Multan is divided into several sectors. 
SECTOR A

SECTOR B1

SECTOR B2

SECTOR C

SECTOR D

SECTOR E

SECTOR F

SECTOR G

SECTOR H

SECTOR I

SECTOR K

SECTOR L

SECTOR M

SECTOR N

SECTOR O

SECTOR P

SECTOR Q

SECTOR R

SECTOR S

SECTOR T

SECTOR U

SECTOR V

SECTOR W1

SECTOR W2

SECTOR X

SECTOR Y
Under Construction Projects at DHA Multan: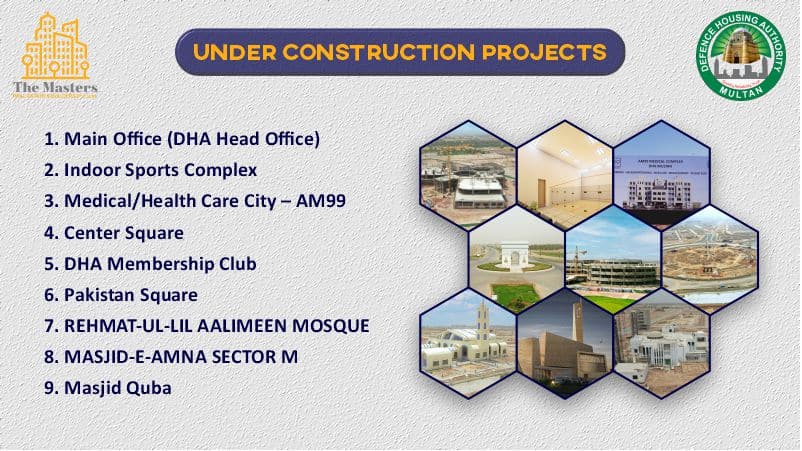 Being a smart partner, the builders of DHA always bring something more magical and beneficial for the investors. Consequently, they have some under construction projects at DHA Multan that add to the projects significance. The following are currently under construction and will be added to DHA Multan soon: 
Main Office (DHA Head Office)
Medical/Health Care City - AM99
REHMAT-UL-LIL AALIMEEN Mosque
Upcoming Projects at DHA Multan:
There are numerous new projects that will improve the utility and aesthetics of the DHA Multan. However, a slew of new initiatives have sprouted up in the area, and more are planned. The projects that will become the unique identification of the DHA Multan are listed below:
Approved Projects for DHA Multan:
DHA Multan approves some brilliant projects to be a part of DHA Multan to beautify the surrounding environment. 
1. Mall Of Central Square (Project By Barcade International)
2. Business Hub (Project By Bodla Builders)
3. 7 Central Multan (Project By Techno Associates)
4. 01 Boulevard (Project By Centrelink Enterprise)
The DHA Multan Has The Following Plot Sizes Available:
DHA Multan has a wide range of plot sizes for both residential and commercial investors, making it an ideal location for both. 
Residential investors can choose from a variety of DHA Multan plots for sale ranging in size from 5 marlas to 2 kanals. 
DHA Multan Residential Plots:
DHA Multan provides more options for residential customers by allowing investors to select the required plot size. Investors can choose their preferred plot size, such as: 
1. DHA Multan 5 Marla plot
2. DHA Multan 8 Marla plot
3. DHA Multan 10 Marla plot
4. DHA Multan 1 Kanal plot
5. DHA Multan 2 Kanal plot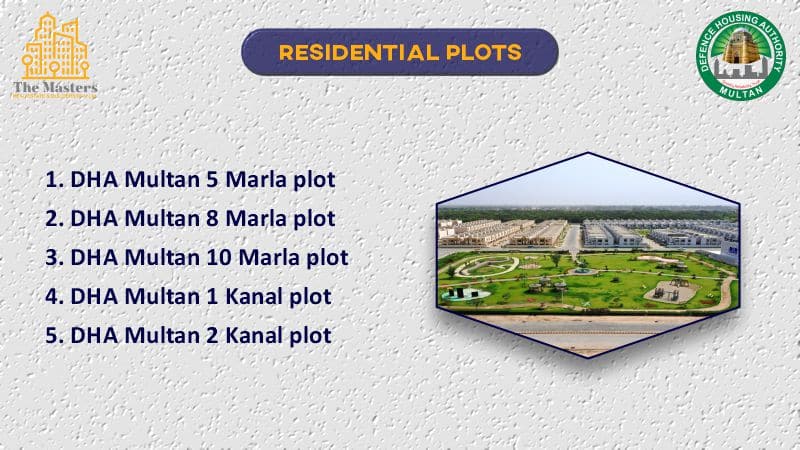 DHA Multan Commercial Plots:
Commercial plots are available in DHA Multan to meet the needs of commercial investors. Commercial investors can reserve plots in the sizes listed below: 
1. DHA Multan 2 Marla plot
2. DHA Multan 4 Marla plot
3. DHA Multan6 Marla plot
4. DHA Multan 8 Marla plot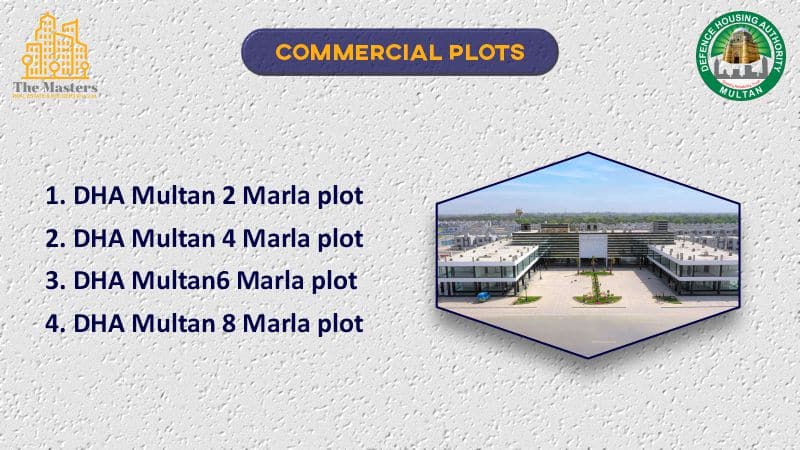 The DHA Villas are designed to meet the diverse needs of families seeking private space with modern conveniences. 556 villas are available in 6, 9, and 12 marla sizes, accommodating 3, 4, and 5-bed rooms, respectively. Residents can enjoy the large community park as well as a shopping arcade with authentic shopping experiences and food courts. Investors can reserve villas in the following sizes:
a) 6 MARLA Villa (3 Bed Rooms) (1994 Sq Ft)
b) 9 MARLA Villa (4 Bed Rooms) (2751 Sq Ft)
c) 12 MARLA Villa (4 Bed Rooms) (3149 Sq Ft)
d) 12 MARLA Villa (5 Bed Rooms) (3530 Sq Ft)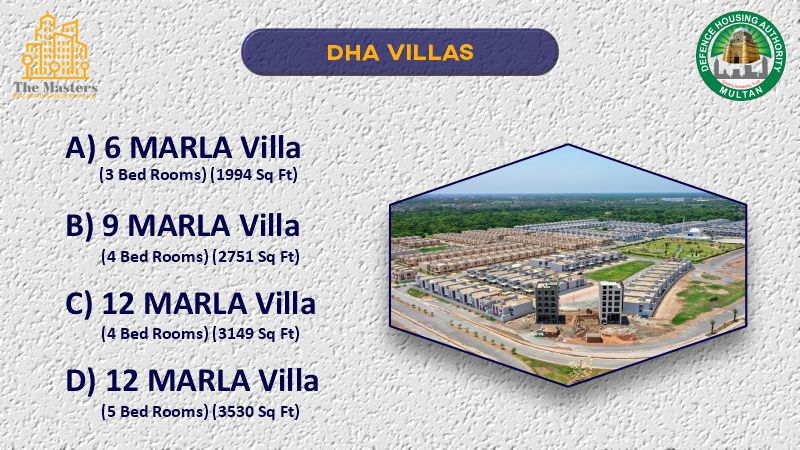 The DHA Multan has successfully completed two rounds of balloting for the DHA Multan Phase-1. However, the purpose of the balloting was to maintain investor trust in the investment. The DHA Multan balloting for Phase-1 began on October 2nd, 2018, with villas being balloted. The first ballot was held on the 31st of July 2019 for plots, followed by a ballot for 2 marlas on the 15th of September 2019 and the final ballot for Phase-1 on the 12th of August 2021.
The 2nd ballot for the Phase-1 DHA Multan was held on the 30th of September 2021. The third ballot is scheduled for November 2022. The 3rd ballot is expected in November 2022.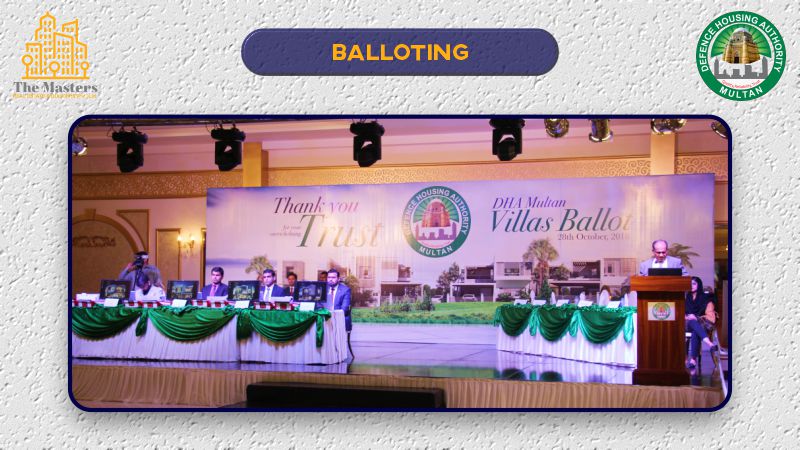 The DHA Multan Challan form allows investors to reserve their desired plots. Investors can reserve plots using the DHA Multan Challan form. The investors can create their DHA Multan profile and receive their DHA Multan login and password. They can use their login to access the system and track their application or download the challan form.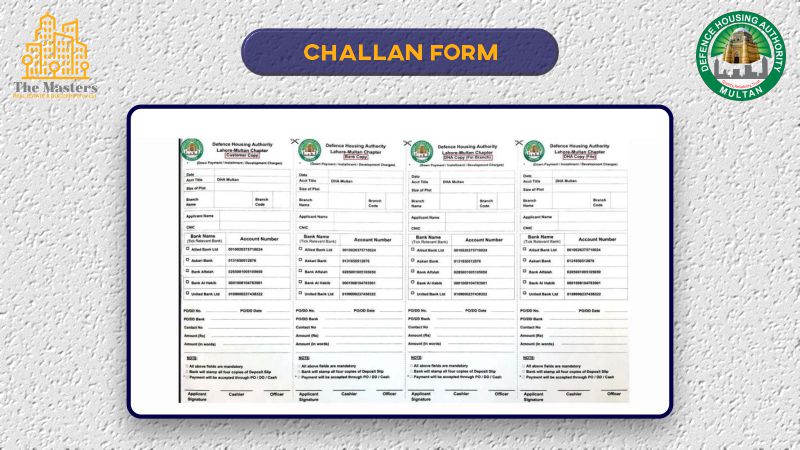 DHA Multan Payment Plan 2022:
DHA Multan has a deep understanding of the needs and current economic situation of buyers from Pakistan and around the world. Additionally, they offer a wide range of payment options to suit the needs of buyers around the globe. Among other things, this is how the DHA Multan payment plan works: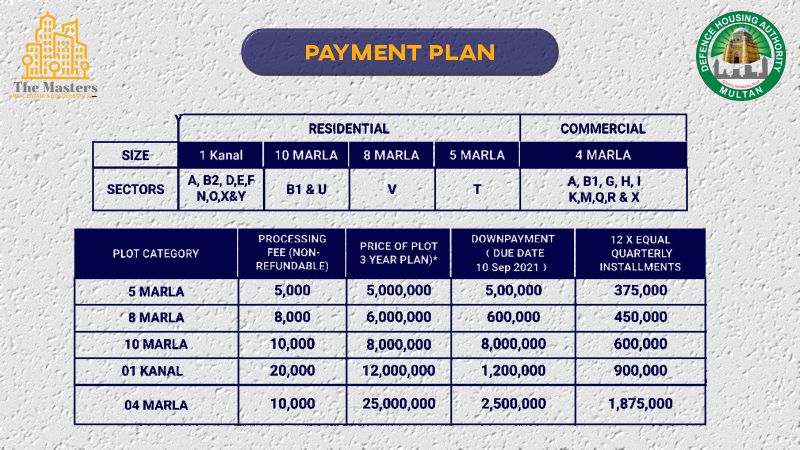 The DHA Multan is the first choice of investors in a sea of expensive and luxurious lifestyles. It has almost everything needed for modern living, but some features set us apart from the Multan real estate competition. 
1. Education City
2. Entertainment
3. Health City
4. Hotel
5. Mixed Utility Buildings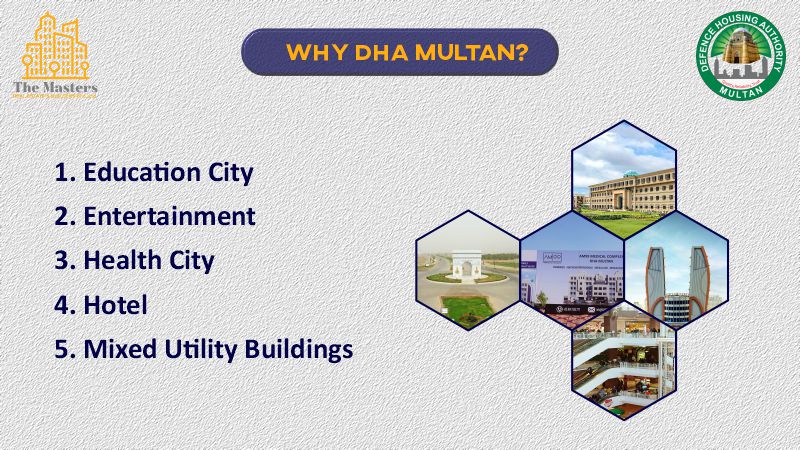 DHA Multan invites investors to purchase 5-10 acre or larger plots for all types of educational establishments such as schools, colleges, and universities. Additionally, from 4 kanal to 1-acre plots can be accessible for hostel buildings. DHA Multan recognizes the importance of education and thus provides plots in the adverse range specifically for schools. The education city is dedicated to plots like:
1. Schools
2. Colleges
3. Universities
4. Hostels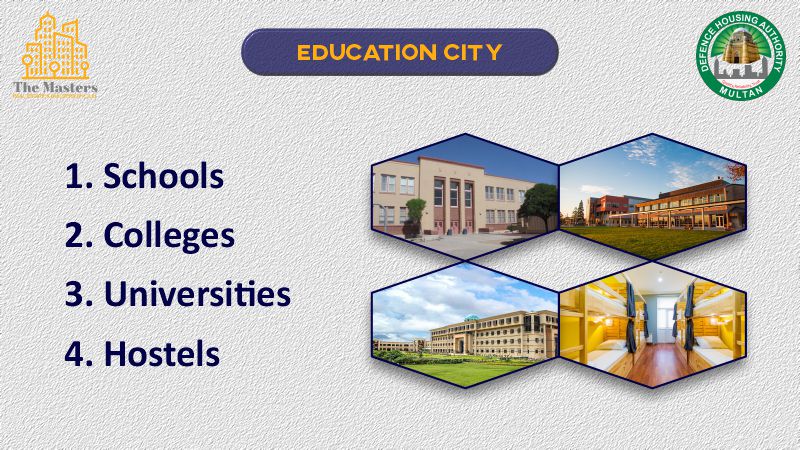 Entertainment:
DHA Multan will always prioritize entertainment. There are numerous options available to meet the diverse needs of the surrounding residents, including:
1. Sports Complex in Sector W2
2. Go-Cart Track & Formula Karting
3. Ridding & Saddle Club
4. Dirt Bikers Track
5. Water Sports Park
6. Theme Park in Sector W1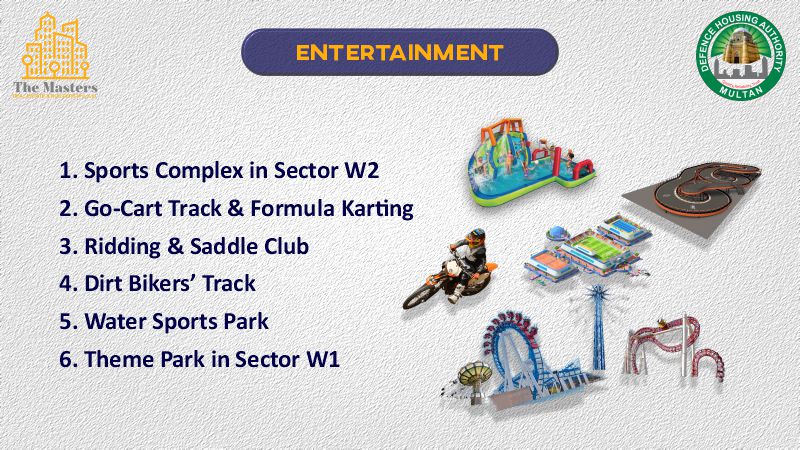 Health City:
The Health City is specifically designed to manage the health and care needs of DHA Multan residents. However, there are a variety of plot sizes available, ranging from 1 acre to 30 acres. The plots can be booked for development for the below services: 
1. Diagnostic Center 
2. Hospital 
3. Medical Facilities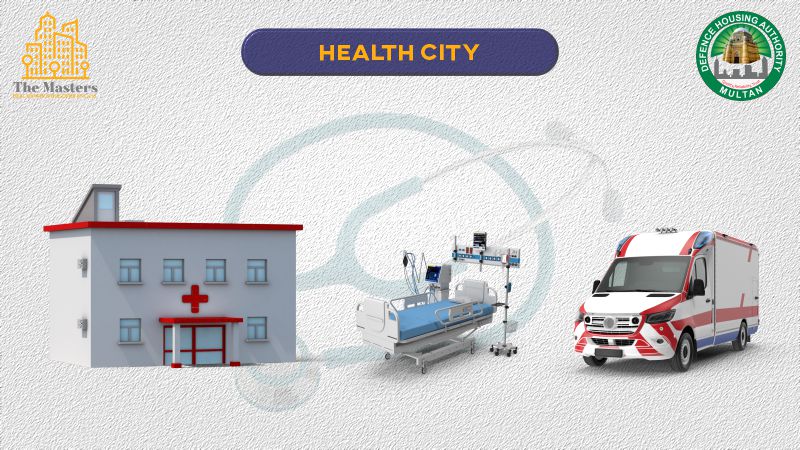 Hotel:
DHA Multan has everything you could possibly need for modern living. There is a large section devoted to hotels, motels, and restaurants. Plots ranging from 5 to 20 acres are available for the development of 4-5 star hotels. The plots are available for:
1. 4 - 5 Star Hotels
2. Motels
3. Restaurants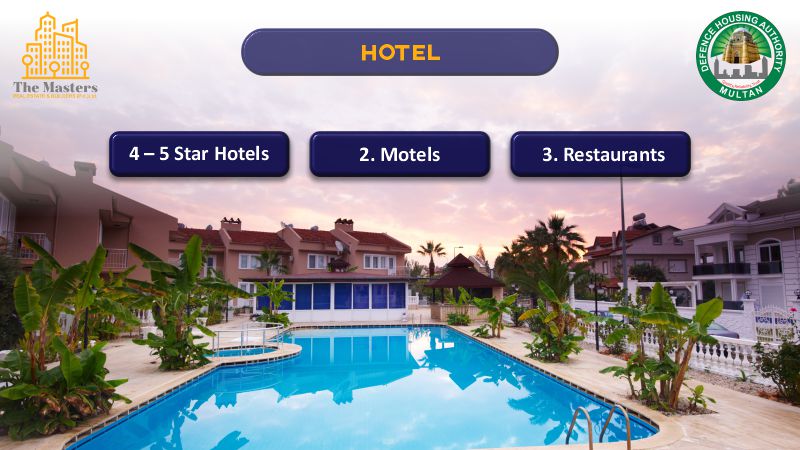 Mixed Utility Buildings:
To improve the utility of DHA Multan, the developers have added as many facilities as possible to entertain the residents in the best possible ways. As a result, they set aside a specific area for shopping malls, offices, and designer stores. The shops are available for rent or auction. 
1. Mega Mall
2. Shopping Arcade (Shops Available on Rent/Auction)
3. Corporate Offices
4. Designer Shops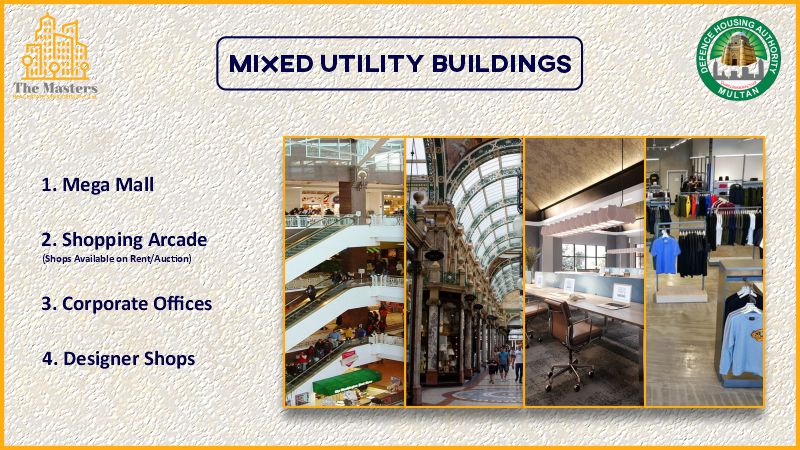 Salient Features: 
1. 24/7 Ceterilzed Security & Maintenance System
2. A Reliable Power Backup System
3. DHAM Nursery
4. Rumanza Golf Course
5. The Arena
6. DHAM Villas
7. 360 Zoo
8. Sewerage Treatment Plant
9. Villas Community Park
10. Bilal Masjid
11. Shopping Arcade
12. Food Courts
13. Community Centers
14. Health & Fitness Centers
15. Gym Facilities
16. Theme Parks
17. Shopping Malls
18. Central Mosques
19. Green Belts
20. Healthcare Facilities 
21. Transport Facilities 
Bottom Line:
DHA Multan has attracted potential investors from all over Pakistan due to its well-known and successful projects. As a responsible real estate entity, we at The Masters Real Estate & Builders recommend that you invest in the DHA Multan.
Our services are available for both the buying and selling processes.To learn more about DHA Multan and real estate opportunities in Multan and throughout Pakistan, contact one of the DHA Multan authorized dealers!
FAQs:
Q1: What are the plot sizes available in DHA Multan? 
The plots for residential investors are available in 5, 8, 10 marlas, and 1-2 kanal sizes. Commercial plots, on the other hand, are available in 2, 4, 6, and 8 marla sizes. 
Q2: What is the DHA Multan contact number?
You can reach them at the following numbers:
+92-304-111-5-675 or +92-300-428-3-333 Contact Numbers!
Q3: Are there any additional charges for DHA Multan?
No, there are no additional or hidden charges.
Q4: What are the Lahore smart city development charges?
The development charges are determined by the type of facilities and infrastructure you select for your residence. 
Q5: Does the plot price include the cost of development?
No, it doesnt include the charges for the development. 
Q6: Where is DHA Multan located?
DHA Multan is located on Bosan Road, near Bahauddin Zakariya University Multan.
Q7: When will the third balloting of the first phase take place?
The third balloting for the first phase is scheduled for November 2022.
Q8: How many sectors are there in DHA Multan?
DHA Multan has a total of 25 sectors.
Q9: What is Rumanza Golf & Country Club?
Rumanza Golf & Country Club is an 18-hole international standard golf course, as well as 295 acres of residential plots ranging from 4 kanal to 2 kanal to 1 kanal to 12 marla in size, a mosque, commercial establishments, and a fire station make up the Rumanza Golf & Country Club. 
Q10: Which banks have been authorized by DHA Multan to accept payments?
1. Allied Bank Ltd.
2. Askari Bank Ltd.
3. Bank Alfalah Ltd.
4. Bank Islami Ltd.
5. Faysal Bank Ltd.
6. MCB Bank
7. Meezan Bank Ltd.
Q11: What is DHA Multan total area?
The total area of the DHA Multan project is 10,000 acres.
Q11: What is the price of 5 marla plot in DHA Multan?
DHA Multan 5 marla plot price is 20 Lac.