July 15, 2023
Posted by:

Masters

Category:

Blog

Architects and their hiring is the most crucial aspect of construction. Mainly because of their educational prowess and their dedication to their craft. These people are the entities who are responsible for ensuring that whatever you are imagining is projected to its best quality in real life.
All you have to do is learn the basics of this process of hiring architects and their fee structures. This information will allow you to enjoy a hassle-free experience. Learn more about the other relevant details in the given below article.
Who Is an Architect?
A person responsible for the planning, designing, and execution of the construction design is known as an architect. From providing supervision to the entire project to ensuring that everything is in its place, an architect is a key player on the journey.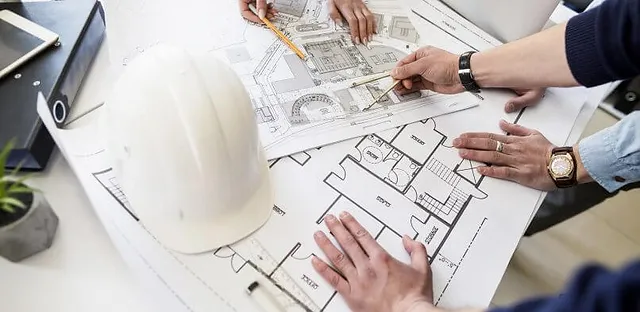 Given below are the designation alongside the experience levels of the architect known for providing the best possible services in Pakistan:
Intern/Freelancer
Experience level (2-7 years)
Architect
Experience level (More than 7 years)
Principal Architect
Experience level (Handles the Entire Firm)
How Much Do Architects Charge Fees to Draw Floor Plans?
Mostly for an entire and basic architectural floor plan the charges per square foot might range from 40 Rs to 60 Rs (Rs 10,000 – Rs 50,000). In this mentioned price range, the customers will have access to the front elevation 3D design and the entire floor plan.
Now, in case the customer requires some additional data such as construction working drawings and blueprints which are also known as (submission drawings), the cost for that per square foot is Rs 100 to Rs. 200 (Rs 400,000 – Rs 25,00,000).
These plans might also include the following things:
Complete Floor Plans Which Also Include Doors, Windows, and Floor Details
Elevation Details (Exterior) From Every Possible Side of the House
Grey Structure Site Visit
Mep (Mechanical, Electrical, and Plumbing) Plans
Section Drawings
Foundation and Basement Steel Structure Plans
Footings
Summarizing it all here:
| | |
| --- | --- |
| Services | Average Cost |
| Basic Concept Drawing Plan | PKR 10,000 – Rs. 50,000 |
| Complete Architecture Drawings | PKR 400,000 – Rs 25,00,000 |
What Are the Types of Contracts That an Architect Provides Services For?
Before settling for an architect, people need to understand the contracts which they are offering. Mostly the contracts are of four types. These are as follows:
Hourly Rates
Fixed and Pre-decided Cost
Rates per Square Foot
A Chunk of the Construction Cost
What Are the Architect Fees for Residential Projects With Construction Supervision?
The charges of a professional architect for a residential project range from 8% to 15% of the total construction cost. For instance, an architect costs an average of Rs 4,00,000 – Rs 10,00,000. The prices can also fluctuate from design to design. The fluctuations can also cater to the complications, complexities, architectural needs, and market rates.
What Are the Miscellaneous Charges?
But this is not the end of the road, the charges for architecture do not stop here. Some additional and overlooked charges also cater to the:
Floor Plans
Add-on Services
Reimbursable Design Services
The extra and unaccounted payments are as follows:
Customers are entitled to pay for 3D rendering images which fall into the range of Rs 10,000 to Rs. 50,000 per image/view of interior/exterior design
Architects often ask for extra charges for travel expenses, photocopies, shipping, and carrier service fees
Architects ask for additional charges in case the client requests a ninth-hour change in the design and planning
BOQs and quotations of a client project make up for additional charges because of their time-consuming nature
Grey structure visit charges are Rs 50000
Read More: Lahore Smart City Payment Plan
Reasons for High Charges
Depending on the above-provided information, it is possible for people to wonder about the high fee structure of architects. This is not a hearsay and they do actually cost a lot. And here are the reasons for this:
The architects do not work alone. They have a complete and dedicated team which consists of
Junior Architects
Draftsperson
Civil Engineers
Architecture Software Operators
Electrical Engineers
As all of these people work together, there is a designated chunk of fees that is allotted to all of them.
When architects take over a project they spend at least half a year on that project. From design to planning, construction projects take a lot of time and therefore this often comes with a lot of costs.
The 3D rendering models and crafts require a lot of high-tech software and computer models which cost them a lot of money. The average cost of such high-tech software falls around 5 to 6 lacs. Therefore it's natural for architects to ask for a lot of money if they are handling a certain project. In addition to all this, the monetary expenses are also huge in these matters. Such as bills, rent, staff, office expenses, and salaries.
When Should You Hire an Architect in Pakistan?
Now this is a million-dollar question. It is very important for people to recognize the need for hiring an architect at the right time. Here are all the points when you need to hire an architect for their exceptional services:
Construction of a new home
Need approval from the authorities for the construction
Requires an expert who is able to produce your imagination in reality
Addition or renovation to the floors
Renovation of an old-structure
Redesigning of the house
Complications in your house structure that require professional assistance
Requirement for an architectural stamp on the submission drawings
The Bottom Line!
We are hopeful that the above-provided information will keep you satisfied in these matters. Make sure to pay attention to this information, do your own research, and then reach a conclusion as to how to move forward with the hiring of these people.
Reference: https://lahore-smartcity.pk/