March 28, 2023
Posted by:

Masters

Category:

Blog

The kitchen is without a doubt the heart of your house. It is one of the most used rooms in your home and is the most visited area in your residence. It is a place where your whole family gathers and eats.
Moreover, it is also a zone that people notice first when they enter your house. Therefore, it is a no-brainer that you have to pay attention to the decor and interior design of your kitchen.
If your kitchen space is well-organized and established, you are able to leave a good mark on the visitors. There are various factors that you need to keep in mind before searching for a simple kitchen design in Pakistan.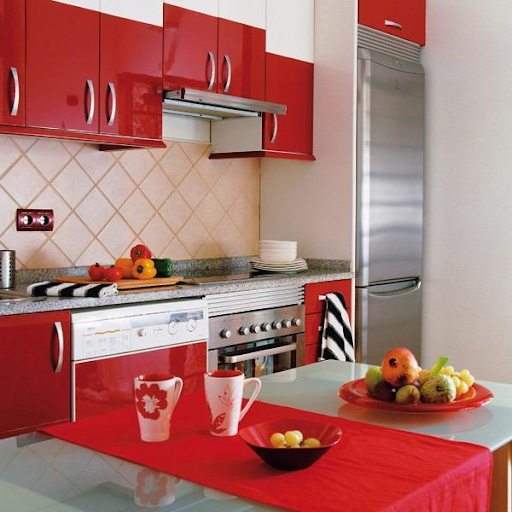 For example, in order to stylize your kitchen, you cannot afford to compromise the functionality of the kitchen. No matter how sleek or elegant, your kitchen should function as a kitchen at the end of the day.
Keeping these things in mind, we have compiled a list of some of the best and most simple kitchen designs in Pakistan. Buckle up and remember to take notes!
Read More: Wall Design in Pakistan
Simple Kitchen Design in Pakistan
Classic Kitchen Style
Industrial Kitchen Style
Rustic Kitchen Style
Baroque Kitchen Style
Boho Kitchen Style
Vintage Kitchen Style
Classic Kitchen Style
A classic kitchen style is something that never goes out of trend! It is trendy, up-to-date, timeless, and a total hit. You can include neutral colors such as grey and cream in the wall colors and floor styling.
In this one, you are free to use wood of all sorts, such as oak, beech, and cherry. Make sure to buy the kitchen appliances in white color as well. A classic kitchen design is a simple kitchen design in Pakistan that is an ultimate fan-favorite.
A stand-out feature of a classic kitchen design is that you can add various sorts of details, such as porcelain, glass, and metal, in this one. You can add some old objects from your house and place them in your kitchen as well. For instance, add your grandfather's wall clock or make room for your mother's glass cabinets.
A tip that will come in handy here is that you have to create harmony and mix these things in a classic kitchen style.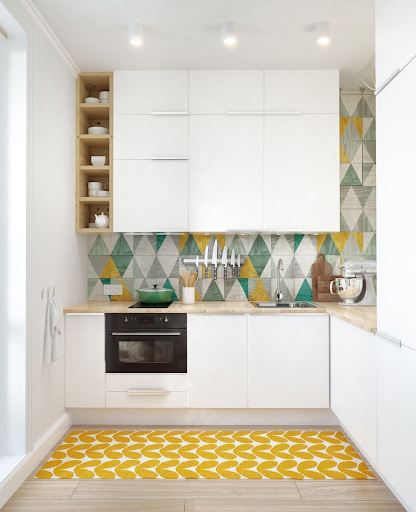 Industrial Kitchen Style
Having an industrial-style kitchen is a trend these days. There are multiple reasons behind this. Firstly, it comes with multiple options. Secondly, this is an option that fits in with people's budgets. In other words, you don't go above the budget.
You might be wondering, what sort of materials are mainly used for industrial kitchen style? Well, brick, steel, concrete, wood, iron & glass are the ones that are used.
The decor will be simple yet modern. You are free to choose from a wide range of colors as well as wallpapers. Whatever you decide will set the tone of your kitchen.
In this simple kitchen design in Pakistan, grey and natural tones are the ones that rule the scene. You can try modern appliances, glass cabinets, high-tech furniture, and sophisticated style elements to stylize the kitchen.
Rustic Kitchen Style
What's the one thing that comes to your mind when you hear the word rustic? Wood, right?
Wood is an interior decoration element that sits really well with the warm and cozy vibes of a kitchen. Not only does it provide a natural look to your kitchen decor it also brings new life by allowing brown color in the house.
The brown color is a color that allows one to relax as well as enhance the aesthetic appeal. Restyle your old furniture, polish them, and place them in your kitchen. People can get confused that rustic and vintage kitchen styles are the same. No, they might look like same, but they are not.
A rustic kitchen makes good use of wood. Be it in the form of details or furniture. In addition to wood, there is another element that will look good in your rustic kitchen design, and that's stone.
Stone promises luxury, and when you combine it with other kitchen essentials – the end results are out of this world.
Try to add light shades of furniture and paint the walls white or beige. This rustic design is a popular and simple kitchen design in Pakistan.
Baroque Kitchen Style
For those who are looking for an elegant kitchen design that is simple yet neat, then baroque kitchen designs are the best bet. A baroque kitchen style is one where you can get creative with various sorts of wallpapers and furniture styles. It does not restrict your imagination and gives you enough room to play around.
You can add natural or artificial flowers or lamps to your kitchen. But one stand-out feature of a baroque kitchen style is that it makes the best possible use of grey and light tones. In case your kitchen has a good hood, then you can also try chair seats, curtains, and even carpets.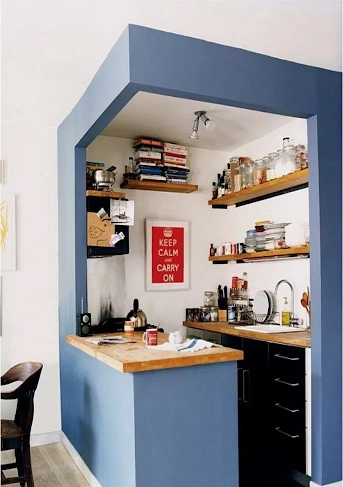 If there is one way in which you can ace this simple kitchen design in Pakistan, it is by finding the right balance. Mix solids with curvy shapes and fill the corners with details. Try this in every corner of your house, from floor to ceilings to the walls.
Moreover, you can also place your stainless steel appliances in the kitchen. A baroque kitchen style gives you plenty of room.
Boho Kitchen Style
One of the most fun and happening designs for your kitchen is a Boho Kitchen style. This is a popular yet simple kitchen design in Pakistan. In case you are looking for a kitchen design that promises sophistication but is not dull and gloomy, then this one's for you.
Start by painting your kitchen walls with bright colors but do not forget to add pastel colors well. This way, the walls will not take up all of your attention, and you are also able to divert your attention toward the patterns and floors.
Then remember to add tiles and borders on the floors or the walls. You can also add vibrant colors to your shelves by adding plants, vases, and flowers to the scene. Whatever you have in your house that falls into the ethnic category, you should place it in your kitchen.
A pro tip is not to overdo it. You do not want to give your house visitors too many prints and patterns on their visit.
Vintage Kitchen Style
They say that you can never go wrong with vintage, and trust us, they are right!
These kitchen designs are not only the talk of the town but sustainable as well. The vintage kitchen style is a simple kitchen design in Pakistan that will remind you of old times.
You can try out a wide set of options, such as a chess board as a flooring option. Moreover, there is also an option of rustic indoors, wood incorporation, and cozy kitchen vibes with wood details.
These retro options will provide you with a chance to bring out the best in your kitchen space. Furthermore, these options are equal parts cozy and breezy.
In short, while you are opting for this kitchen design, you should also keep in mind the importance of old furniture and vintage pieces. All you have to do is add a refrigerator with a 50's style statement, and your kitchen will give off vintage vibes. Then, you can also add vibrant colors to the cabinets or backsplash.
Vintage kitchen styles also have pastel palettes and flowers in the design. This way, your kitchen will give a more decade-old vibe.
Kitchen Design Companies in Pakistan
There are several companies that are working in the major cities of Pakistan such as Lahore, Karachi, Islamabad, Multan, and Faisalabad. Wondering how to incorporate simple kitchen designs in your house? Listed below are some companies that can help you in this matter.
Interwood in Major Cities of Pakistan
Chughtaiz Kitchen and Wardrobes Lahore
Al Farah Kitchen Lahore
Kitchen Care Islamabad
Shaze Kitchen & Interior Islamabad
Koncept Kitchens Karachi
Stosa Italian Kitchens Karachi
Stylize Your Kitchen with These Designs
We are hopeful that the above-mentioned simple kitchen design in Pakistan will be helpful. Remember to keep your budget in mind before choosing the designs that you want in your kitchen.
Do not go overboard if your budget is not allowing. All you have to do is stay creative and mindful.
Read More: Plots for sale in Lahore smart city