January 20, 2022
Posted by:

Masters

Category:

News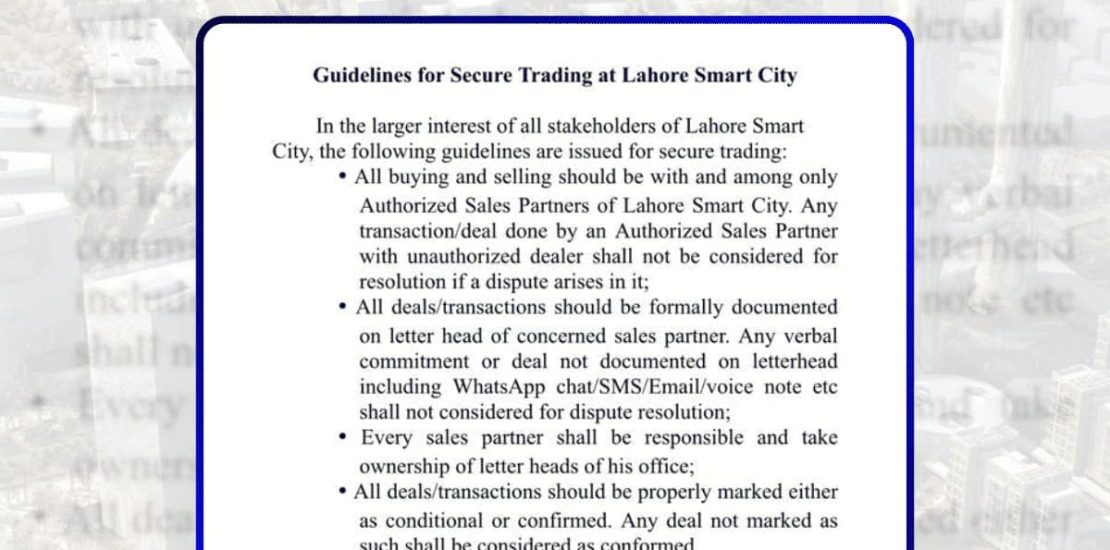 Guidelines for Secure Trading at Lahore Smart City
In the larger interest of all stakeholders of Lahore Smart City, the following guidelines are issued for secure trading:
• All buying and selling should be with and among only Authorized Sales Partners of Lahore Smart City. Any transaction/deal done by an Authorized Sales Partner with unauthorized dealer shall not be considered for resolution if a dispute arises in it.
• All deals/transactions should be formally documented on letter head of concerned sales partner. Any verbal commitment or deal not documented on letterhead including WhatsApp chat/SMS/EmaiUvoice note etc shall not considered for dispute resolution.
• Every sales partner shall be responsible and take ownership of letter heads of his office.
• All deals/transactions should be properly marked either as conditional or confirmed. Any deal not marked as such shall be considered as conformed.
Committee
Well Wisher Dispute Resolving
Lahore Smart City